-Books-
Do you love that feeling you get when you're surrounded by books? So calming, and the scent? Euphoric. It's even been scientifically proven to reduce stress.
We love books, too. All books. The more, the better. Here at Adventures Underground, there are literally thousands of them. Come in, either for that specific book you're looking for, or just to browse and explore. And if you're having any trouble finding something, just ask! We love helping people find the books they are excited about.
What is that? Just out of the corner of your eye. It's so beautiful, it is almost hard to look at, but you just can't keep your eyes off it... It is your new favorite book.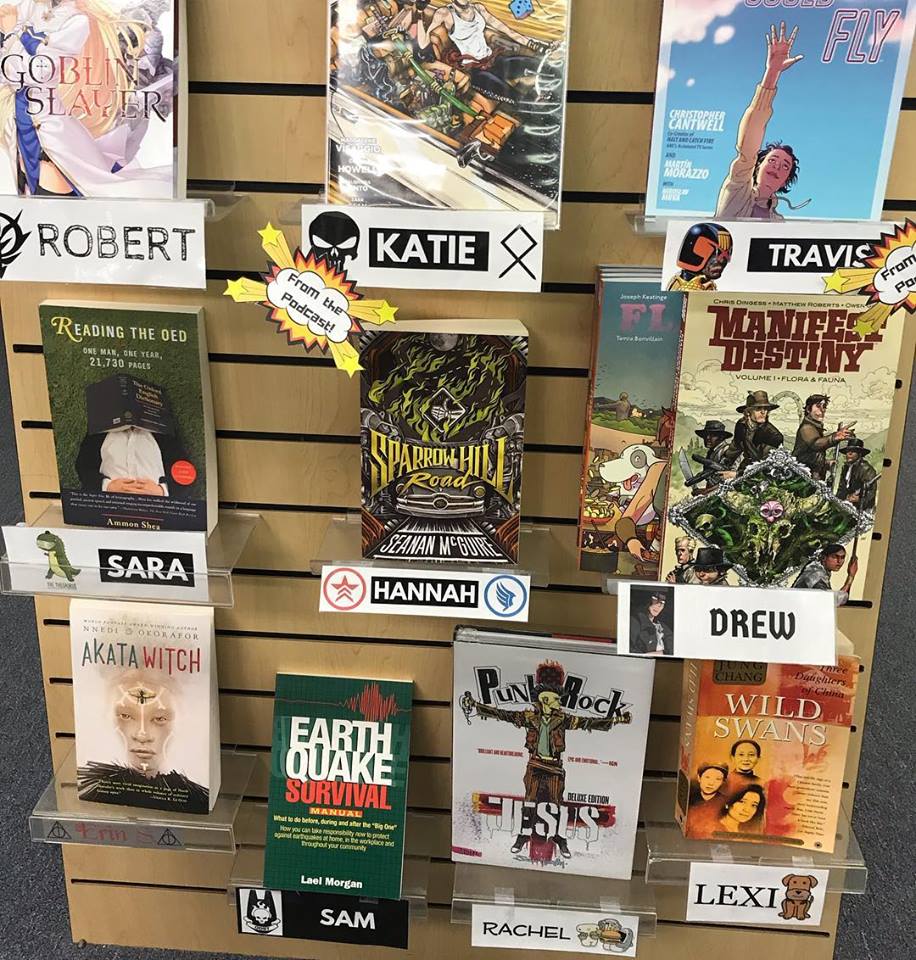 -Events-
Part of what we love most about what we do is being involved in our local community. In addition to annual events, such as NaNoWriMo and our sidewalk sale, we also host author events and a monthly book club.
For our complete list of upcoming events, be sure to check out our calendar of events!
New this Week! 03/03
The definitive guide to eco-friendly outdoor defecation--fully revised with a new introduction by renowned author and environmental activist Bill McKibben.
More than thirty years since its first publication, Kathleen Meyer delivers an update to the beloved guide to relieving yourself responsibly. Meyer's delightfully shameless discussion of a once-secretive activity examines the environmental impact of too much crap (organic and otherwise) on our ever-shrinking wild outdoors.
With the rising popularity of hiking and off-the-grid backpacking as well as the current climate crisis, How to Shit in the Woods provides timely techniques for keeping trails, bushes, and wild waters clean and protected when indoor plumbing is not an option. Meyer shares proper procedures in a way that is approachable and comprehensible for all audiences, from beginner to expert.
The fourth edition features updates to outdoor laws and regulations, health statistics, and recommendations for equipment such as special trowels, funnels, and portable toilets. With more than three million copies sold, How to Shit in the Woods is the backcountry backpacker's bible, crucial for anyone looking to be wiser with their waste.
One evening, eight Mennonite women climb into a hay loft to conduct a secret meeting. For the past two years, each of these women, and more than a hundred other girls in their colony, has been repeatedly violated in the night by demons coming to punish them for their sins. Now that the women have learned they were in fact drugged and attacked by a group of men from their own community, they are determined to protect themselves and their daughters from future harm.
While the men of the colony are off in the city, attempting to raise enough money to bail out the rapists and bring them home, these women-all illiterate, without any knowledge of the world outside their community and unable even to speak the language of the country they live in-have very little time to make a choice: Should they stay in the only world they've ever known or should they dare to escape?
Based on real events and told through the "minutes" of the women's all-female symposium, Toews's masterful novel uses wry, politically engaged humor to relate this tale of women claiming their own power to decide.
-New Books-
Let's talk new books. Here at Adventures Underground, we are constantly striving to provide the best selection that we can, in order to better serve you.
Check out our displays of new releases for the hottest new books to hit the shelves. And if there's an upcoming release you're looking forward to, please let us know. We can always put in a special order for you to ensure you have it on release day.
We always love to hear your input about books so we can make our selection the best that it can be.
02/25 Releases

Taking place nearly a century before the events of A Game of Thrones, A Knight of the Seven Kingdoms compiles the first three official prequel novellas to George R. R. Martin's ongoing masterwork, A Song of Ice and Fire.
These never-before-collected adventures recount an age when the Targaryen line still holds the Iron Throne, and the memory of the last dragon has not yet passed from living consciousness. Before Tyrion Lannister and Podrick Payne, there was Dunk and Egg. A young, naïve but ultimately courageous hedge knight, Ser Duncan the Tall towers above his rivals--in stature if not experience. Tagging along is his diminutive squire, a boy called Egg--whose true name is hidden from all he and Dunk encounter. Though more improbable heroes may not be found in all of Westeros, great destinies lay ahead for these two . . . as do powerful foes, royal intrigue, and outrageous exploits.
Featuring more than 160 all-new illustrations by Gary Gianni, A Knight of the Seven Kingdoms is a must-have collection that proves chivalry isn't dead--yet.
For fans of Cheryl Strayed, the gripping story of a biologist's human-powered journey from the Pacific Northwest to the Arctic to rediscover her love of birds, nature, and adventure.
During graduate school, as she conducted experiments on the peculiarly misshapen beaks of chickadees, ornithologist Caroline Van Hemert began to feel stifled in the isolated, sterile environment of the lab. Worried that she was losing her passion for the scientific research she once loved, she was compelled to experience wildness again, to be guided by the sounds of birds and to follow the trails of animals. In March of 2012, she and her husband set off on a 4,000-mile wilderness journey from the Pacific rainforest to the Alaskan Arctic, traveling by rowboat, ski, foot, raft, and canoe. Together, they survived harrowing dangers while also experiencing incredible moments of joy and grace -- migrating birds silhouetted against the moon, the steamy breath of caribou, and the bond that comes from sharing such experiences. A unique blend of science, adventure, and personal narrative, The Sun is a Compass explores the bounds of the physical body and the tenuousness of life in the company of the creatures who make their homes in the wildest places left in North America. Inspiring and beautifully written, this love letter to nature is a lyrical testament to the resilience of the human spirit.
Winner of the 2019 Banff Mountain Book Competition: Adventure Travel
Recent Releases!

The Mayan god of death sends a young woman on a harrowing, life-changing journey in this dark, one-of-a-kind fairy tale inspired by Mexican folklore.
The Jazz Age is in full swing, but Casiopea Tun is too busy cleaning the floors of her wealthy grandfather's house to listen to any fast tunes. Nevertheless, she dreams of a life far from her dusty small town in southern Mexico. A life she can call her own.
Yet this new life seems as distant as the stars, until the day she finds a curious wooden box in her grandfather's room. She opens it--and accidentally frees the spirit of the Mayan god of death, who requests her help in recovering his throne from his treacherous brother. Failure will mean Casiopea's demise, but success could make her dreams come true.
In the company of the strangely alluring god and armed with her wits, Casiopea begins an adventure that will take her on a cross-country odyssey from the jungles of Yucatán to the bright lights of Mexico City--and deep into the darkness of the Mayan underworld.
Science world luminary John Brockman assembles twenty-five of the most important scientific minds, people who have been thinking about the field artificial intelligence for most of their careers, for an unparalleled round-table examination about mind, thinking, intelligence and what it means to be human.
"Artificial intelligence is today's story--the story behind all other stories. It is the Second Coming and the Apocalypse at the same time: Good AI versus evil AI." --John Brockman
More than sixty years ago, mathematician-philosopher Norbert Wiener published a book on the place of machines in society that ended with a warning: "we shall never receive the right answers to our questions unless we ask the right questions.... The hour is very late, and the choice of good and evil knocks at our door."
In the wake of advances in unsupervised, self-improving machine learning, a small but influential community of thinkers is considering Wiener's words again. In Possible Minds, John Brockman gathers their disparate visions of where AI might be taking us.
The fruit of the long history of Brockman's profound engagement with the most important scientific minds who have been thinking about AI--from Alison Gopnik and David Deutsch to Frank Wilczek and Stephen Wolfram --Possible Minds is an ideal introduction to the landscape of crucial issues AI presents. The collision between opposing perspectives is salutary and exhilarating; some of these figures, such as computer scientist Stuart Russell, Skype co-founder Jaan Tallinn, and physicist Max Tegmark, are deeply concerned with the threat of AI, including the existential one, while others, notably robotics entrepreneur Rodney Brooks, philosopher Daniel Dennett, and bestselling author Steven Pinker, have a very different view. Serious, searching and authoritative, Possible Minds lays out the intellectual landscape of one of the most important topics of our time.
They know exactly when he'll strike... They just have to find him first.
In all their years working for the Baywood police department, detectives A.L. McKittridge and Rena Morgan have never seen anything like it. Four women dead in forty days, each killed ten days apart. With nothing connecting the victims and very little evidence, the clock is already counting down to when the next body drops. A.L. and Rena will have to act fast if they're going to find the killer's next victim before he does.
But identifying the killer's next likely target is only half the battle. With pressure pushing in from all sides, a promising breakthrough leads the detectives to Tess Lyons, a woman whose past trauma has left her too damaged to appreciate the danger she's in. Unwilling to let another woman die, A.L. and Rena will put everything on the line to keep Tess safe and end the killer's deadly spree once and for all--before time runs out again.
-Used Books-
We're proud to offer an extensive selection of used books of all genres, both fiction and non-fiction. Our selection has been specially curated by our staff from our local community.
The majority of our used books come through in trade and are then put out on the shelves for you to peruse. More titles are put out every day, so be sure to check back frequently!
-Trade-
While we pride ourselves on having a large selection of used books, we need your help to keep it that way. We accept used books in trade and offer store credit in exchange that can be spent on anything in store.
We receive book trade daily and will give you a call as soon as we have a chance to go through yours. Any items that we are unable to take in trade you can choose to either have donated to the local library, or if you'd like them back, we will hold them 48 hours for you to pick up.
Next Book Club Meet Up!
All events in the Caterpillar Cafe have been cancelled until further notice.
We meet the 1st Friday of every month in the Caterpillar Cafe at 7:00pm
There is no requirement to attend every meeting, and you do not have to have read the chosen book to attend either! Feel free to join us and talk books with us! (snacks to share are also welcome ♥)
Whether you loved the book, felt indifferent, read it already or perhaps absolutely hated it and couldn't handle one more word, we want to know!
Our goal is to make book club the one time a month you can get together with fellow book lovers, discuss the month's read, and then spend the rest of the evening talking books until we can't find anymore books to talk about.. which is practically impossible, so it's more like until we run out of snacks...
Not part of book club yet? It's easy and free! Just show up to one meeting, join our FB group and invite your friends.
September Book Club Selection
Hollow Kingdom by Kira Jane Buxton
One pet crow fights to save humanity from an apocalypse and the world that follows in this uniquely hilarious debut from a genre-bending literary author.
S.T., a domesticated crow, is a bird of simple pleasures: hanging out with his owner Big Jim, trading insults with Seattle's wild crows (i.e. "those idiots"), and enjoying the finest food humankind has to offer: Cheetos (R).
But when Big Jim's eyeball falls o
ut of his head, S.T. starts to think something's not quite right. His tried-and-true remedies -- from beak-delivered beer to the slobbering affection of Big Jim's loyal but dim-witted dog, Dennis -- fail to cure Big Jim's debilitating malady. S.T. is left with no choice but to abandon his old life and venture out into a wild and frightening new world with his trusty steed Dennis, where he suddenly discovers that the neighbors are devouring one other. Local wildlife is abuzz with rumors of Seattle's dangerous new predators.
Humanity's extinction has seemingly arrived, and the only one determined to save it is a cowardly crow whose only knowledge of the world comes from TV.
What could possibly go wrong?
August Book Club Selection
The Black Tides of Heaven by J Y Yang
Mokoya and Akeha, the twin children of the Protector, were sold to the Grand Monastery as infants. While Mokoya developed her strange prophetic gift, Akeha was always the one who could see the strings that moved adults to action. While Mokoya received visions of what would be, Akeha realized what could be. What's more, they saw the sickness at the heart of their mother's Protectorate.
A rebellion is growing. T
he Machinists discover new levers to move the world every day, while the Tensors fight to put them down and preserve the power of the state. Unwilling to continue as a pawn in their mother's twisted schemes, Akeha leaves the Tensorate behind and falls in with the rebels. But every step Akeha takes towards the Machinists is a step away from Mokoya. Can Akeha find peace without shattering the bond they share with their twin?