Do you love that feeling you get when you're surrounded by books? So calming, and the scent? Euphoric. It's even been scientifically proven to reduce stress.
We love books, too. All books. The more, the better. Here at Adventures Underground, there are literally thousands of them. Come in, either for that specific book you're looking for, or just to browse and explore. And if you're having any trouble finding something, just ask! We love helping people find the books they are excited about.
What is that? Just out of the corner of your eye. It's so beautiful, it is almost hard to look at, but you just can't keep your eyes off it... It is your new favorite book.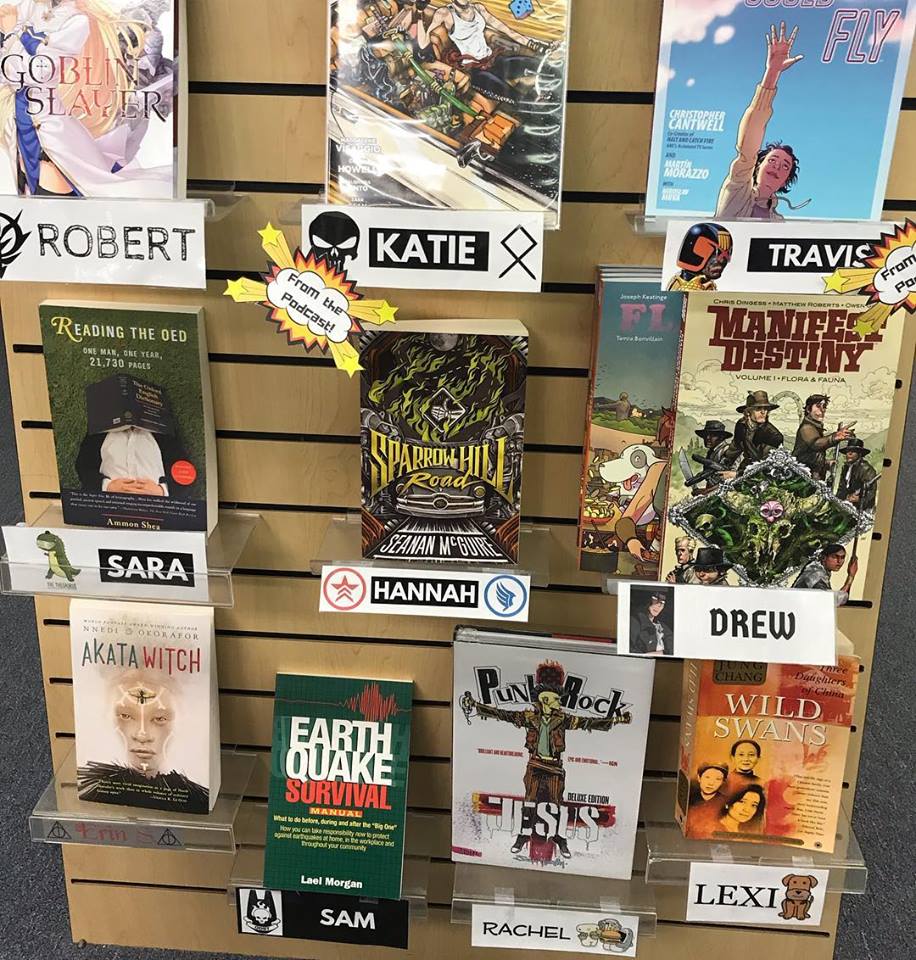 -Events-
Part of what we love most about what we do is being involved in our local community. In addition to annual events, such as NaNoWriMo and our sidewalk sale, we also host author events and a monthly book club.
For our complete list of upcoming events, be sure to check out our calendar of events!
New this Week! 02/18
The Mayan god of death sends a young woman on a harrowing, life-changing journey in this dark, one-of-a-kind fairy tale inspired by Mexican folklore.
The Jazz Age is in full swing, but Casiopea Tun is too busy cleaning the floors of her wealthy grandfather's house to listen to any fast tunes. Nevertheless, she dreams of a life far from her dusty small town in southern Mexico. A life she can call her own.
Yet this new life seems as distant as the stars, until the day she finds a curious wooden box in her grandfather's room. She opens it--and accidentally frees the spirit of the Mayan god of death, who requests her help in recovering his throne from his treacherous brother. Failure will mean Casiopea's demise, but success could make her dreams come true.
In the company of the strangely alluring god and armed with her wits, Casiopea begins an adventure that will take her on a cross-country odyssey from the jungles of Yucatán to the bright lights of Mexico City--and deep into the darkness of the Mayan underworld.
Science world luminary John Brockman assembles twenty-five of the most important scientific minds, people who have been thinking about the field artificial intelligence for most of their careers, for an unparalleled round-table examination about mind, thinking, intelligence and what it means to be human.
"Artificial intelligence is today's story--the story behind all other stories. It is the Second Coming and the Apocalypse at the same time: Good AI versus evil AI." --John Brockman
More than sixty years ago, mathematician-philosopher Norbert Wiener published a book on the place of machines in society that ended with a warning: "we shall never receive the right answers to our questions unless we ask the right questions.... The hour is very late, and the choice of good and evil knocks at our door."
In the wake of advances in unsupervised, self-improving machine learning, a small but influential community of thinkers is considering Wiener's words again. In Possible Minds, John Brockman gathers their disparate visions of where AI might be taking us.
The fruit of the long history of Brockman's profound engagement with the most important scientific minds who have been thinking about AI--from Alison Gopnik and David Deutsch to Frank Wilczek and Stephen Wolfram --Possible Minds is an ideal introduction to the landscape of crucial issues AI presents. The collision between opposing perspectives is salutary and exhilarating; some of these figures, such as computer scientist Stuart Russell, Skype co-founder Jaan Tallinn, and physicist Max Tegmark, are deeply concerned with the threat of AI, including the existential one, while others, notably robotics entrepreneur Rodney Brooks, philosopher Daniel Dennett, and bestselling author Steven Pinker, have a very different view. Serious, searching and authoritative, Possible Minds lays out the intellectual landscape of one of the most important topics of our time.
They know exactly when he'll strike... They just have to find him first.
In all their years working for the Baywood police department, detectives A.L. McKittridge and Rena Morgan have never seen anything like it. Four women dead in forty days, each killed ten days apart. With nothing connecting the victims and very little evidence, the clock is already counting down to when the next body drops. A.L. and Rena will have to act fast if they're going to find the killer's next victim before he does.
But identifying the killer's next likely target is only half the battle. With pressure pushing in from all sides, a promising breakthrough leads the detectives to Tess Lyons, a woman whose past trauma has left her too damaged to appreciate the danger she's in. Unwilling to let another woman die, A.L. and Rena will put everything on the line to keep Tess safe and end the killer's deadly spree once and for all--before time runs out again.
-New Books-
Let's talk new books. Here at Adventures Underground, we are constantly striving to provide the best selection that we can, in order to better serve you.
Check out our displays of new releases for the hottest new books to hit the shelves. And if there's an upcoming release you're looking forward to, please let us know. We can always put in a special order for you to ensure you have it on release day.
We always love to hear your input about books so we can make our selection the best that it can be.
02/11 Releases

Charlie Jane Anders, the nationally bestselling author of All the Birds in the Sky delivers a brilliant new novel set in a hauntingly strange future with #10 LA Times bestseller The City in the Middle of the Night.
WOULD YOU GIVE UP EVERYTHING TO CHANGE THE WORLD?
Humanity clings to life on January--a colonized planet divided between permanently frozen darkness on one side, and blazing endless sunshine on the other.
Two cities, built long ago in the meager temperate zone, serve as the last bastions of civilization--but life inside them is just as dangerous as the uninhabitable wastelands outside.
Sophie, a young student from the wrong side of Xiosphant city, is exiled into the dark after being part of a failed revolution. But she survives--with the help of a mysterious savior from beneath the ice.
Burdened with a dangerous, painful secret, Sophie and her ragtag group of exiles face the ultimate challenge--and they are running out of time.
WELCOME TO THE CITY IN THE MIDDLE OF THE NIGHT
It is time to reevaluate the merits of the inconspicuous life, to search out some antidote to continuous exposure, and to reconsider the value of going unseen, undetected, or overlooked in this new world. Might invisibility be regarded not simply as refuge, but as a condition with its own meaning and power? The impulse to escape notice is not about complacent isolation or senseless conformity, but about maintaining identity, autonomy, and voice.
In our networked and image-saturated lives, the notion of disappearing has never been more alluring. Today, we are relentlessly encouraged, even conditioned, to reveal, share, and promote ourselves. The pressure to be public comes not just from our peers, but from vast and pervasive technology companies that want to profit from patterns in our behavior. A lifelong student and observer of the natural world, Busch sets out to explore her own uneasiness with this arrangement, and what she senses is a widespread desire for a less scrutinized way of life--for invisibility. Writing in rich painterly detail about her own life, her family, and some of the world's most exotic and remote places, she savors the pleasures of being unseen. Discovering and dramatizing a wonderful range of ways of disappearing, from virtual reality goggles that trick the wearer into believing her body has disappeared to the way Virginia Woolf's Mrs. Dalloway finds a sense of affiliation with the world around her as she ages, Busch deliberates on subjects new and old with equal sensitivity and incisiveness.
How to Disappear is a unique and exhilarating accomplishment, overturning the dangerous modern assumption that somehow fame and visibility equate to success and happiness. Busch presents a field guide to invisibility, reacquainting us with the merits of remaining inconspicuous, and finding genuine alternatives to a life of perpetual exposure. Accessing timeless truths in order to speak to our most urgent contemporary problems, she inspires us to develop a deeper appreciation for personal privacy in a vast and intrusive world.
Recent Releases!


When a beloved family dog is stolen, her owner sets out on a life-changing journey through the ruins of our world to bring her back in this fiercely compelling tale of survival, courage, and hope. Perfect for readers of Station Eleven and The Girl With All the Gifts.
My name's Griz. My childhood wasn't like yours. I've never had friends, and in my whole life I've not met enough people to play a game of football.
My parents told me how crowded the world used to be, but we were never lonely on our remote island. We had each other, and our dogs.
Then the thief came.
There may be no law left except what you make of it. But if you steal my dog, you can at least expect me to come after you.
Because if we aren't loyal to the things we love, what's the point?
Homie is Danez Smith's magnificent anthem about the saving grace of friendship. Rooted in the loss of one of Smith's close friends, this book comes out of the search for joy and intimacy within a nation where both can seem scarce and getting scarcer. In poems of rare power and generosity, Smith acknowledges that in a country overrun by violence, xenophobia, and disparity, and in a body defined by race, queerness, and diagnosis, it can be hard to survive, even harder to remember reasons for living. But then the phone lights up, or a shout comes up to the window, and family--blood and chosen--arrives with just the right food and some redemption. Part friendship diary, part bright elegy, part war cry, Homie is the exuberant new book written for Danez and for Danez's friends and for you and for yours.
-Used Books-
We're proud to offer an extensive selection of used books of all genres, both fiction and non-fiction. Our selection has been specially curated by our staff from our local community.
The majority of our used books come through in trade and are then put out on the shelves for you to peruse. More titles are put out every day, so be sure to check back frequently!
-Trade-
While we pride ourselves on having a large selection of used books, we need your help to keep it that way. We accept used books in trade and offer store credit in exchange that can be spent on anything in store.
We receive book trade daily and will give you a call as soon as we have a chance to go through yours. Any items that we are unable to take in trade you can choose to either have donated to the local library, or if you'd like them back, we will hold them 48 hours for you to pick up.
Next Book Club Meet Up!
March 6 at 7pm in the Caterpillar Cafe.
We meet the 1st Friday of every month in the Caterpillar Cafe at 7:00pm
There is no requirement to attend every meeting, and you do not have to have read the chosen book to attend either! Feel free to join us and talk books with us! (snacks to share are also welcome ♥)
Whether you loved the book, felt indifferent, read it already or perhaps absolutely hated it and couldn't handle one more word, we want to know!
Our goal is to make book club the one time a month you can get together with fellow book lovers, discuss the month's read, and then spend the rest of the evening talk books until we can't find anymore books to talk about.. which is practically impossible, so it's more like until we run out of snacks...
Not part of book club yet? It's easy and free! Just show up to one meeting, join our FB group and invite your friends.
March Book Club Selection
Dune by Frank Herbert
Here is the novel that will be forever considered a triumph of the imagination. Set on the desert planet Arrakis, Dune is the story of the boy Paul Atreides, who would become the mysterious man known as Muad'Dib. He would avenge the traitorous plot against his noble family -- and would bring to fruition humankind's most ancient and unattainable dream.
A stunning blend of adventure and mysticism, environmentalism and politics, Dune won the first Nebula Award, shared the Hugo Award, and formed the basis of what is undoubtedly the grandest epic in science fiction.
February Book Club Selection
Ivory Apples by Lisa Goldstein
Ivy and her sisters have a secret: their reclusive Great-Aunt is actually Adela Madden, inspired author of the fantasy classic, Ivory Apples.
Generations of obsessive fans have searched for Adela, poring over her letters, sharing their theories online, and gathering at book conventions. It is just a matter of time before one fan gets too close.
So when the seemingly-perfect Kate Burden appears at the local park, Ivy knows that something isn't right. Kate has charmed the entire family, but she is suspiciously curious about Ivory Apples. And Ivy must protect what she and her Great-Aunt share: magic that is real, untamable, and--despite anyone's desire--always prefers choosing its own vessel.