Do you love that feeling you get when you're surrounded by books? So calming, and the scent? Euphoric. It's even been scientifically proven to reduce stress.
We love books, too. All books. The more, the better. Here at Adventures Underground, there are literally thousands of them. Come in, either for that specific book you're looking for, or just to browse and explore. And if you're having any trouble finding something, just ask! We love helping people find the books they are excited about.
What is that? Just out of the corner of your eye. It's so beautiful, it is almost hard to look at, but you just can't keep your eyes off it... It is your new favorite book.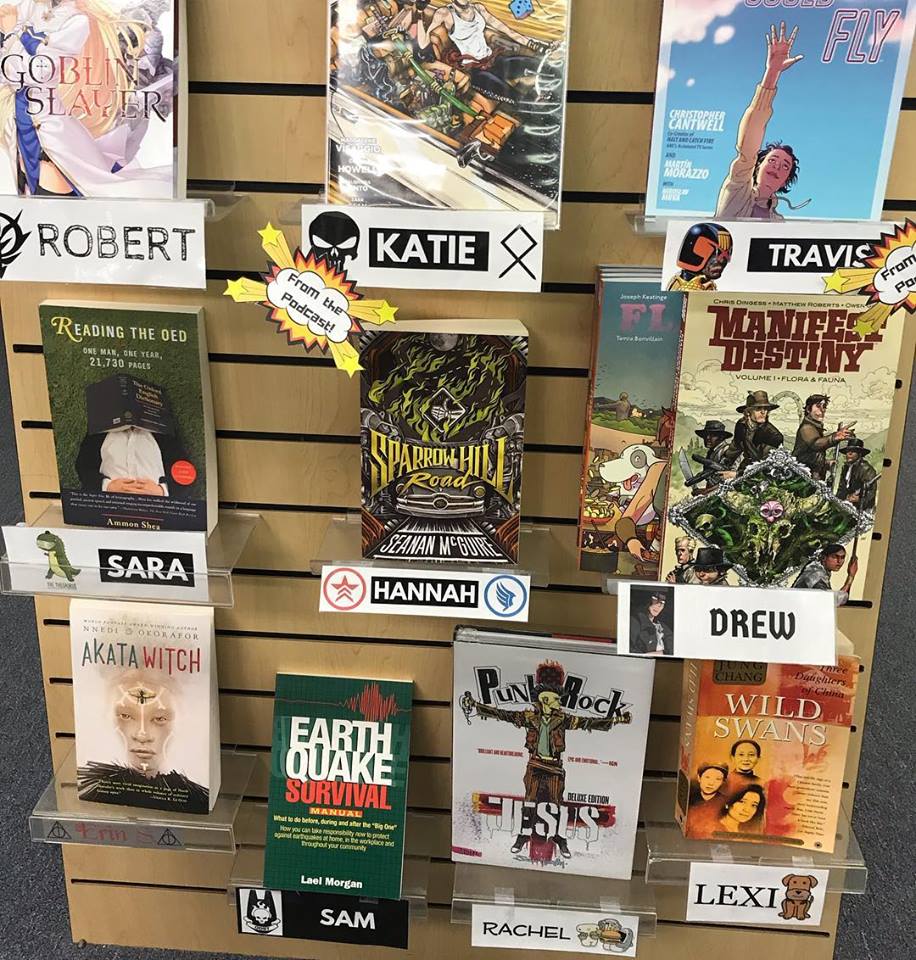 -Events-
Part of what we love most about what we do is being involved in our local community. In addition to annual events, such as NaNoWriMo and our sidewalk sale, we also host author events and a monthly book club.
For our complete list of upcoming events, be sure to check out our calendar of events!
New This Week! 11/05

-New Books-
Let's talk new books. Here at Adventures Underground, we are constantly striving to provide the best selection that we can, in order to better serve you.
Check out our displays of new releases for the hottest new books to hit the shelves. And if there's an upcoming release you're looking forward to, please let us know. We can always put in a special order for you to ensure you have it on release day.
We always love to hear your input about books so we can make our selection the best that it can be.
Last Weeks New Releases! 10/29
Recent Releases!

-Used Books-
We're proud to offer an extensive selection of used books of all genres, both fiction and non-fiction. Our selection has been specially curated by our staff from our local community.
The majority of our used books come through in trade and are then put out on the shelves for you to peruse. More titles are put out every day, so be sure to check back frequently!
-Trade-
While we pride ourselves on having a large selection of used books, we need your help to keep it that way. We accept used books in trade and offer store credit in exchange that can be spent on anything in store.
We receive book trade daily and will give you a call as soon as we have a chance to go through yours. Any items that we are unable to take in trade you can choose to either have donated to the local library, or if you'd like them back, we will hold them 48 hours for you to pick up.
Next Book Club Meet Up!
December 6 at 7pm in the Caterpillar Cafe.
January Book Club Selection
Escaping Exodus by Nicky Drayden
Escaping Exodus is a story of a young woman named Seske Kaleigh, heir to the command of a biological, city-size starship carved up from the insides of a spacefaring beast. Her clan has just now culled their latest ship and the workers are busy stripping down the bonework for building materials, rerouting the circulatory system for mass transit, and preparing the cavernous creature for the onslaught of the general populous still in stasis. It's all a part of the cycle her clan had instituted centuries ago—excavate the new beast, expand into its barely-living carcass, extinguish its resources over the course of a decade, then escape in a highly coordinated exodus back into stasis until they cull the next beast from the diminishing herd.

And of course there wouldn't be much of a story if things didn't go terribly, terribly wrong.

Escaping Exodus is scheduled to be in readers' orbit Summer 2019.
December Book Club Selection
Guards! Guards! by Terry Pratchett
Here there be dragons . . . and the denizens of Ankh-Morpork wish one huge firebreather would return from whence it came. Long believed extinct, a superb specimen of draco nobilis ("noble dragon" for those who don't understand italics) has appeared in Discworld's greatest city. Not only does this unwelcome visitor have a nasty habit of charbroiling everything in its path, in rather short order it is crowned King (it is a noble dragon, after all . . .).

Meanwhile, back at Unseen University, an ancient and long-forgotten volume--The Summoning of Dragons--is missing from the Library's shelves. To the rescue come Captain Vimes, Constable Carrot, and the rest of the Night Watch who, along with other brave citizens, risk everything, including a good roasting, to dethrone the flying monarch and restore order to Ankh-Morpork (before it's burned to a crisp). A rare tale, well done as only Terry Pratchett can.