Do you love that feeling you get when you're surrounded by books? So calming, and the scent? Euphoric. It's even been scientifically proven to reduce stress.
We love books, too. All books. The more, the better. Here at Adventures Underground, there are literally thousands of them. Come in, either for that specific book you're looking for, or just to browse and explore. And if you're having any trouble finding something, just ask! We love helping people find the books they are excited about.
What is that? Just out of the corner of your eye. It's so beautiful, it is almost hard to look at, but you just can't keep your eyes off it... It is your new favorite book.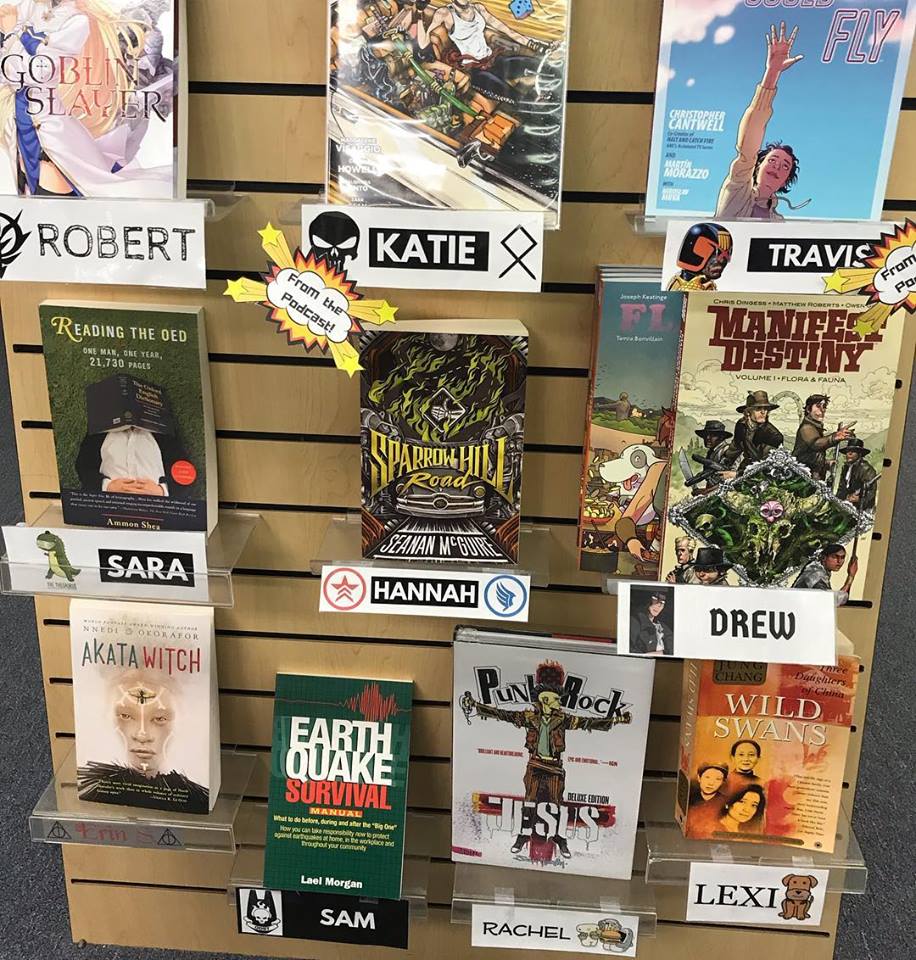 -Events-
Part of what we love most about what we do is being involved in our local community. In addition to annual events, such as NaNoWriMo and our sidewalk sale, we also host author events and a monthly book club.
For our complete list of upcoming events, be sure to check out our calendar of events!
New this Week! 01/07
Haunting and transcendently twisted, this English-language debut from a Cuban literary star is a tale of race, magic, belief, and fate.
The Stuart family moves to a marginal neighborhood of Cienfuegos, a city on the southern coast of Cuba. Arturo Stuart, a charismatic, visionary preacher, discovers soon after arriving that God has given him a mission: to build a temple that surpasses any before seen in Cuba, and to make of Cienfuegos a new Jerusalem.
In a neighborhood that roils with passions and conflicts, at the foot of a cathedral that rises higher day by day, there grows a generation marked by violence, cruelty, and extreme selfishness. This generation will carry these traits beyond the borders of the neighborhood, the city, and the country, unable to escape the shadow of the unfinished cathedral.
Told by a chorus of narrators--including gossips, gangsters, a ghost, and a serial killer--who flirt, lie, argue, and finish one another's stories, Marcial Gala's The Black Cathedral is a darkly comic indictment of modern Cuba, gritty and realistic but laced with magic. It is a portrait of what remains when dreams of utopia have withered away.
Want to Marie Kondo your digital life and develop a more tactful approach to technology? By a leading tech and digital culture journalist, Kill Reply All is a guide to tidying it all up.
How do you reply to your colleague's weird email? What would Emily Post say about your Tinder profi le? And just how do you know if you're mansplaining? In this irreverent journey through the murky world of digital etiquette, Wired's Victoria Turk provides an indispensable guide to minding our manners in a brave new online world, and making peace with the platforms, apps, and devices we love to hate.
The digital revolution has put us all within a few clicks, taps, and swipes of one another. But familiarity can breed contempt, and while we're more likely than ever to fall in love online, we're also more likely to fall headfirst into a raging fight with a stranger or into an unhealthy obsession with the phones in our pockets. If you've ever encountered the surreal, aggravating battlefields of digital life and wondered why we all don't go analog, this is the book for you.
-New Books-
Let's talk new books. Here at Adventures Underground, we are constantly striving to provide the best selection that we can, in order to better serve you.
Check out our displays of new releases for the hottest new books to hit the shelves. And if there's an upcoming release you're looking forward to, please let us know. We can always put in a special order for you to ensure you have it on release day.
We always love to hear your input about books so we can make our selection the best that it can be.
Last Weeks Releases 12/31
A journey through the many ways to live an artistic life--from the flashy and famous to the quiet and steady--full of unexpected insights about creativity and contentment, from the author of The Good Girl's Guide to Getting Lost.
Rachel Friedman was a serious violist as a kid. She quit music in college but never stopped fantasizing about what her life might be like if she had never put down her bow. Years later, a freelance writer in New York, she again finds herself struggling with her fantasy of an artist's life versus its much more complicated reality. In search of answers, she decides to track down her childhood friends from Interlochen, a prestigious arts camp she attended, full of aspiring actors, artists, dancers, and musicians, to find out how their early creative ambitions have translated into adult careers, relationships, and identities.
Rachel's conversations with these men and women spark nuanced revelations about creativity and being an artist: that it doesn't have to be all or nothing, that success isn't always linear, that sometimes it's okay to quit. And Then We Grew Up is for anyone who has given up a childhood dream and wondered "what-if?", for those who have aspired to do what they love and had doubts along the way, and for all whose careers fall somewhere between emerging and established. Warm, whip-smart, and insightful, it offers inspiration for finding creative fulfillment wherever we end up in life.
A taut, gripping tale of a young woman and an Iron Age reenactment trip that unearths frightening behavior

The light blinds you; there's a lot you miss by gathering at the fireside.
In the north of England, far from the intrusions of cities but not far from civilization, Silvie and her family are living as if they are ancient Britons, surviving by the tools and knowledge of the Iron Age.
For two weeks, the length of her father's vacation, they join an anthropology course set to reenact life in simpler times. They are surrounded by forests of birch and rowan; they make stew from foraged roots and hunted rabbit. The students are fulfilling their coursework; Silvie's father is fulfilling his lifelong obsession. He has raised her on stories of early man, taken her to witness rare artifacts, recounted time and again their rituals and beliefs--particularly their sacrifices to the bog. Mixing with the students, Silvie begins to see, hear, and imagine another kind of life, one that might include going to university, traveling beyond England, choosing her own clothes and food, speaking her mind.
The ancient Britons built ghost walls to ward off enemy invaders, rude barricades of stakes topped with ancestral skulls. When the group builds one of their own, they find a spiritual connection to the past. What comes next but human sacrifice?
A story at once mythic and strikingly timely, Sarah Moss's Ghost Wall urges us to wonder how far we have come from the "primitive minds" of our ancestors.
Recent Releases!

Spellwork for Self-Care
For those who want to infuse their self-care routine with a little magic, this mystical guidebook provides readers with simple spells to enhance their daily lives. Topics range from relationships and emotional health to self-love, work, school, and more.
Spellwork for Self-Care takes an old-fashioned approach to the practice of self-soothing. As young people flock to the well-worn paths tread by the witches of yore by using tarot card readings, astrological sign analysis, and herbal home remedies for mental and physical ailments, the practice of witchcraft has morphed into a form of spirituality for millennials and Generation Z.
This book of 40 spells combines witchy spiritual practices with our culture's hunger for self-care, creating a compact resource for those seeking alternate paths to better mental, spiritual, emotional, and physical health.
-Used Books-
We're proud to offer an extensive selection of used books of all genres, both fiction and non-fiction. Our selection has been specially curated by our staff from our local community.
The majority of our used books come through in trade and are then put out on the shelves for you to peruse. More titles are put out every day, so be sure to check back frequently!
-Trade-
While we pride ourselves on having a large selection of used books, we need your help to keep it that way. We accept used books in trade and offer store credit in exchange that can be spent on anything in store.
We receive book trade daily and will give you a call as soon as we have a chance to go through yours. Any items that we are unable to take in trade you can choose to either have donated to the local library, or if you'd like them back, we will hold them 48 hours for you to pick up.
Next Book Club Meet Up!
February 7 at 7pm in the Caterpillar Cafe.
We meet the 1st Friday of every month in the Caterpillar Cafe at 7:00pm
There is no requirement to attend every meeting, and you do not have to have read the chosen book to attend either! Feel free to join us and talk books with us! (snacks to share are also welcome ♥)
Whether you loved the book, felt indifferent, read it already or perhaps absolutely hated it and couldn't handle one more word, we want to know!
Our goal is to make book club the one time a month you can get together with fellow book lovers, discuss the month's read, and then spend the rest of the evening talk books until we can't find anymore books to talk about.. which is practically impossible, so it's more like until we run out of snacks..
Not part of book club yet? It's easy and free! Just show up to one meeting, join our FB group and invite your friends
February Book Club Selection
Ivory Apples by Lisa Goldstein
Ivy and her sisters have a secret: their reclusive Great-Aunt is actually Adela Madden, inspired author of the fantasy classic, Ivory Apples.
Generations of obsessive fans have searched for Adela, poring over her letters, sharing their theories online, and gathering at book conventions. It is just a matter of time before one fan gets too close.
So when the seemingly-perfect Kate Burden appears at the local park, Ivy knows that something isn't right. Kate has charmed the entire family, but she is suspiciously curious about Ivory Apples. And Ivy must protect what she and her Great-Aunt share: magic that is real, untamable, and--despite anyone's desire--always prefers choosing its own vessel.
January Book Club Selection
Escaping Exodus by Nicky Drayden
Escaping Exodus is a story of a young woman named Seske Kaleigh, heir to the command of a biological, city-size starship carved up from the insides of a spacefaring beast. Her clan has just now culled their latest ship and the workers are busy stripping down the bonework for building materials, rerouting the circulatory system for mass transit, and preparing the cavernous creature for the onslaught of the general populous still in stasis. It's all a part of the cycle her clan had instituted centuries ago—excavate the new beast, expand into its barely-living carcass, extinguish its resources over the course of a decade, then escape in a highly coordinated exodus back into stasis until they cull the next beast from the diminishing herd.

And of course there wouldn't be much of a story if things didn't go terribly, terribly wrong.

Escaping Exodus is scheduled to be in readers' orbit Summer 2019.